2. Proxy Settings
Edge One™ communicates with the cloud using the SmartPlug™ IoT agent. Given that the SmartPlug™ does not provide a way to configure specific network settings for the cloud connection, the Proxy tab allows the configuration of a Proxy address, if required.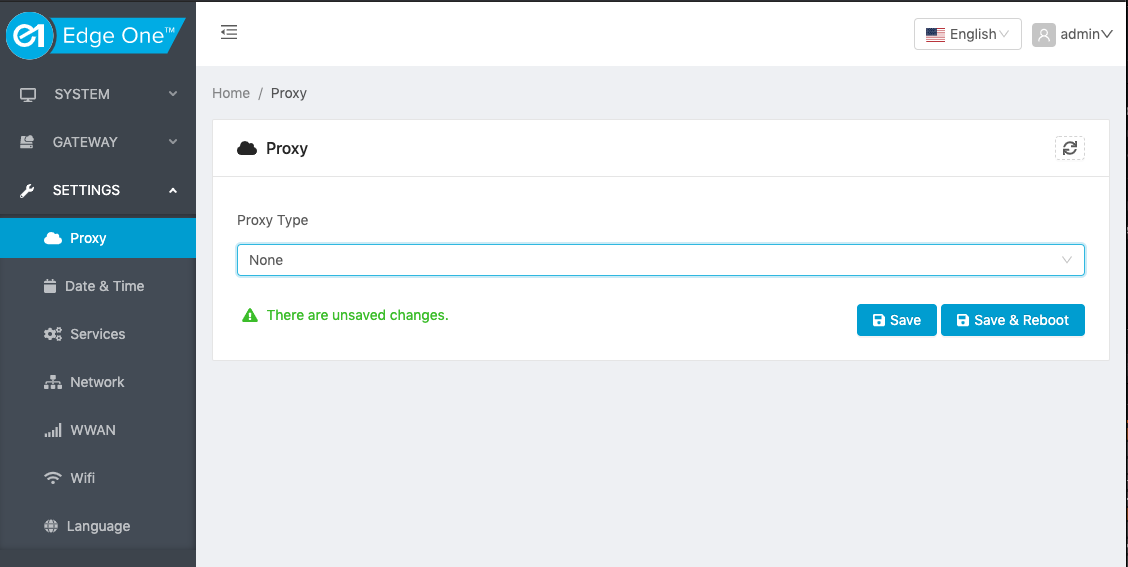 To set up a Proxy:
Open the Proxy tab under Settings.
Select the type of Proxy to be used. There are three possible settings:
None used when no proxy is used and it is the default setting.
Open which allows to set the URL of an Open proxy server.
NTLM or NTLM Authorization Proxy Server' (APS) is a proxy software that allows authentication via a Microsoft Proxy Server using the proprietary NTLM (NT Lan Manager) protocol.

Enter the Proxy URL. You may enter the URL with the format http://username:password@10.10.10.1:3128. The port is required and the credentials are optional. The credentials can be set in the Username and Password input fields.

Enter the Domain.
Enter the username and password only if the credentials are not supplied as part of the URL.

For the settings to be effective immediately, click on Save and Reboot.
Otherwise, Click on Save and the SmartPlug™ agent will use the new settings upon its next restart.
The Refresh button ( ) reads and updates the current Proxy settings on Edge One™.